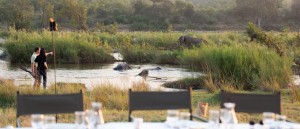 Ubuntu Experiences welcomes member Sefapane Lodge & Safaris.
"Well known for having built up the beautiful  Sefapane Lodge in Phalaborwa since taking it over in 1998, Joris Bertens has been a significant figure in the promotion of South Africa's Limpopo province and is known as an astute businessman and energetic entrepreneur.
Sefapane River Lodge seems different to his other projects, though; it's more personal, and as we talk over dinner on the deck, I sense it expresses something about this man and the things that are close to his heart."
Read more here.