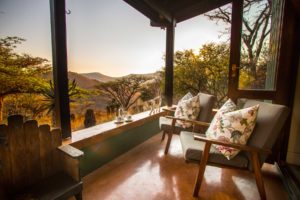 In celebration of 10 years at Three Tree Hill this year, Family Blackburn are celebrating by re-aligning design with their steadfast philosophy of sustainable tourism with old fashioned authentic luxury, family values, and personalised service. The new "three tree hill " logo is inspired by the rich life and scratchy handwriting of one of Africa's greatest and most renowned story-tellers to have ever lived – Sir Laurens van der Post. Handwriting, together with the summary of what we do at Three Tree Hill – history.nature.culture. makes up our new logo. A celebration of a life well lived, and the ancient, most valuable art of all – storytelling.
We are also excited to announce the launch of our brand new two-bedroomed Kiplings Family Cottage. We want to enable larger families (like our own) to all be under one child-friendly roof in comfort & style.
South African handcrafted fabrics & art fill Kiplings Family cottage. Original circa 1900 newspaper cuttings adorn the walls, as well as a number of custom-designed original artworks from the area. The children's bedroom room has an en-suite wheelchair-friendly bathroom. In addition, the kitchenette, basin, light switches & door handles  are modified to comfortably facilitate a wheelchair bound person.
More info from the new Three Trees website!