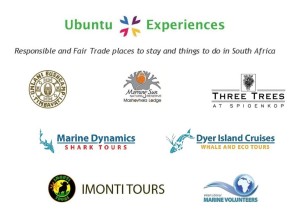 Meet Ubuntu Experiences: great responsible tourism places to stay and things to do in South Africa.
Current members are: Three Tree Hill Lodge, Morning Sun Nature Reserve – Mashovhela Lodge, Umlani Bushcamp, Marine Dynamics, Dyer Island Cruises, International Marine Volunteers and Imonti Tours.
Would you like to join Ubuntu Experiences or learn more about the different businesses?
Are you a tour operator or travel agent in Europe that would like be sent more information or perhaps even have Emilie visit to do a personal presentation?
Please use the contact form and Emilie will be in touch asap. You can also email emilie@greenhearttourism.com