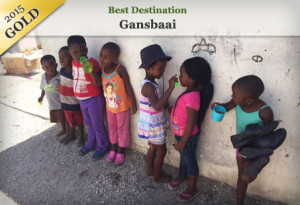 The Gansbaai is like an oyster that the local fishermen have opened only to discover a pearl inside – but that they then go on to share with all the world. Because Gansbaai, a town in the Overberg region, Western Cape, South Africa has transformed itself from fishing village to one of South Africa's most exciting, and community led adventure hubs, a process that has been led by the Gansbaai Tourism Association which is one of South Africa's most proactive and passionate clusters of tourism businesses, from fishermen to fynbos conservationists. Because at Responsible Travel we know that responsible destinations don't just happen. People make them happen.
The wholly committed members of the Gansbaai Tourism Association have been putting this coastal community and biodiverse natural heritage on the map for the last twenty years. With a small fishing village at its core, the Gansbaai group keeps growing and growing. Many of the tourism business members are Fair Trade Tourism certified, and all are committed to protecting the natural environment, preserving heritage, improving the quality of life of local people, and strengthening the local economy. Shark cage diving, kayaking, responsible whale watching, horse riding, fynbos safaris, and hiking are just a few of the holidays experiences to be had in this area that used to be just a quiet fishing village.
Read more about the award here.
For some great Ubuntu Experiences in the Gansbaai area check Marine Dynamics for diving with Great White Sharks, Dyer Island Cruises for whale watching and International Marine Volunteers for a holistic responsible volunteer or research experience.